THE BEST GOLF GLOVE FOR SWEATY HANDS
Nothing can ruin your golf game like a poor-quality golf glove that slips and slides when you start to sweat. If you have a propensity for perspiration and need a solution for your sweaty hands, Red Rooster has the solution you're looking for.
In terms of return on investment, the right golf glove that fit wells and helps your sweaty hands is among the most important accessory for taking strokes off your game. Having the confidence in your grip and having a good feel for your club can create an overall positive effect on your swing and increase your performance. To make it simple, we'll be breaking down exactly what aspects of a golf glove make it good for sweaty hands.
Tips for Dealing withSweaty Hands
There isn't one universal solution that will help golfers deal with sweaty hands. Aside from having the right golf glove, here are some other methods for keeping your hands dry and for dealing with sweaty hands:
Carry Extra Towels
Use 2-3 Golf Gloves
Get New Golf Grips
Use Grip Powder
It can be easy to overlook something like playing with sweaty hands, but when it can improve your game and takes strokes off your score, it's worth paying attention to. These tips paired with a Red Rooster golf glove can be the solution that you've been looking for to dealing with your sweaty hands.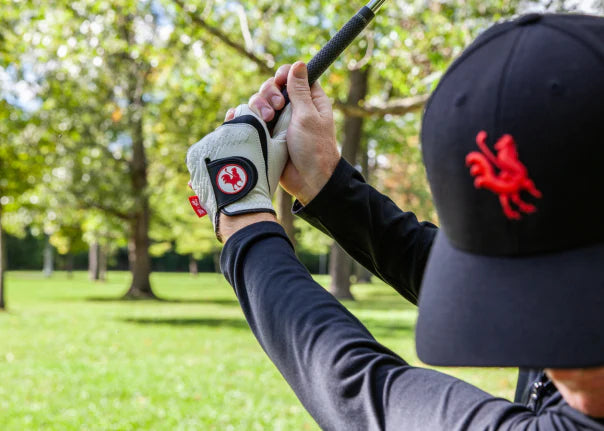 Breathable Design
One of the most important factors that can reduce the moisture inside your golf glove is the breathability of the glove design and the type fabric. Gloves with proper venting, mesh panels, and perforated designs can greatly increase airflow to reduce moisture build up to help keep your hands dry.
Water Proof Properties
Golf gloves with water-resistant properties are great for players who struggle from sweaty hands. Water proof gloves can help repel moisture to keep your hands dry but can also provide insulation for colder weather as well. Water proof gloves are essential for sweaty hands and for playing in wet conditions.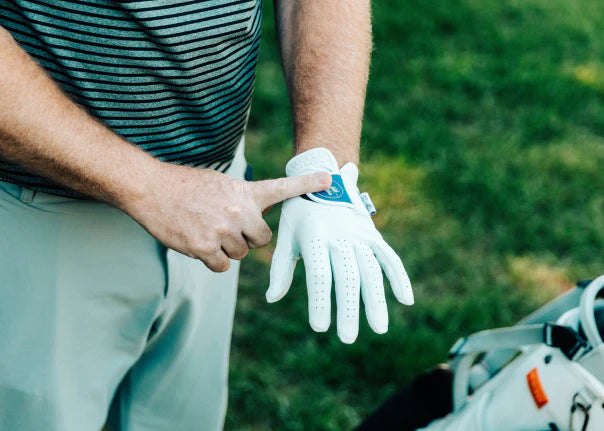 Correct Glove Size
A common mistake that affects both amateurs and even professionals is having the wrong size glove. Finding the right fit for your golf glove is crucial to maximize grip with the club and to minimize friction between your hand and the glove. A glove that's too big might cause undesirable friction and a glove that's too small can create additional pressure that increases the temperature of your hands – both lead to having sweaty hands.
Type of Material & Fabric
Composite materials provide great breathability and water-resistant properties while leather gloves can provide better grip – even when wet. Leather gloves are still breathable but they also are less likely to be damaged or worn out from becoming wet or sweaty.
Shop Now & Elevate Your Game
WHAT IS CABRETTA LEATHER?
Cabretta leather is a sheepskin leather that is soft, grips like a second skin, and is very durable. The unique leather material remains pliable and soft throughout multiple uses. It's used as a premium golf glove material because of its durability, moisture resistant properties, and its quality feel that enhances your touch.
RED ROOSTER GOLF GLOVES FOR SWEATY HANDS
Red Rooster golf gloves are designed with the thinnest, supplest leather that offers exceptional grip and great breathability to make a glove that's perfect for dealing with your sweaty hands
We believe in having a golf glove that doesn't compromise on quality but is also affordable for every golfer - from amateurs and enthusiasts to professionals. Check out our line of cabretta leather golf gloves and we'll help you find the perfect fit and solve your sweaty hand problems.
Shop now & Elevate your game